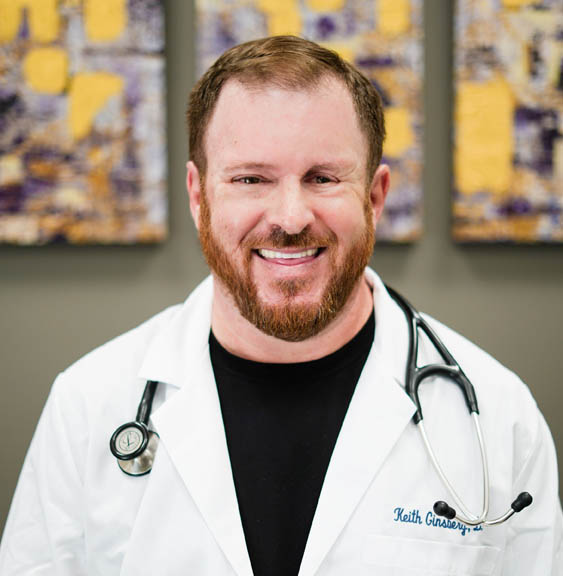 About Keith Ginsberg, D.O.
Born and raised in Pennsylvania, Dr. Ginsberg completed his undergraduate studies with a Bachelors of Science and Business Administration from Boston University.
He went on to receive his Doctorate in Osteopathic Medicine in 1999 from the Philadelphia College of Osteopathic Medicine having served as an Executive Director of the Lamba Omicron Gamma Medical Society.
He completed both his Internship and Residency at Mercy Suburban Hospital in Norristown, Pennsylvania before moving to the Arizona area in 2002.
He is the Owner and Founder of Gilbert Family Medicine, established in 2005 and has been practicing Family Medicine in Gilbert, Arizona for over 15 years.
Dr. Ginsberg is a Board Certified Family Medicine Physician with the AOBFP/AOA.
He specializes in preventive medicine as well as acute and chronic disease management, treating all age ranges from pediatrics to geriatrics with a focus on disease prevention and health maintenance.
In his spare time he enjoys exercising, deep sea fishing and spending as much time as possible with his wife and two children.
From a very early age, it seemed unquestionable that Keith Ginsberg, D.O. was on the path to becoming a doctor. For one thing, he grew up in an extended family of physicians (nine that he can think of, including his father). As if that weren't enough to steer him into the profession, he was diagnosed with terminal childhood cancer at six years old, and having survived cancer-free, learned firsthand the vital life-and-death importance of expert medical care. After that experience, his career choice was simple. "I just wanted to give back," he says.For nearly four years now, Dr. Ginsberg has been "giving back" through his own practice, Gilbert Family Medicine. He chose family medicine because of the interpersonal connections it allows him to form with his patients – relationships which he says are one of his favorite parts of the job. He once considered going into emergency medicine, but decided against it. "You can make an immediate difference, but the patients are in and out, and you may never see them again," Dr. Ginsberg says. As a family practitioner, he truly gets to know everyone who comes through his office doors, realizing his dream of a practice that doesn't "treat patients like cattle."
"I love the continuity of care," he says. He sees patients from all points of the age spectrum, from babies to the elderly, and enjoys being a regular part of people's lives and playing a proactive role in their health. Dr. Ginsberg is committed to healing the sick, but also to providing preventative care: "I help patients to change their lifestyle rather than throwing medications at them." 
Though Dr. Ginsberg takes ample time with each patient, he also has his clinic running like a well-oiled machine, and excluding emergencies, does his best to see his patients at their scheduled appointment time. Patients can usually get a same-day appointment if they call before 10 a.m. – no waiting around for hours. "It's very rare for us to run more than fifteen minutes late," he says. "We value our patients' time. We know they have jobs to get to, and kids to pick up from school." The impressive punctuality is due in part to the rest of Gilbert Family Medicine's efficient staff – who are all willing to go the extra mile, says Dr. Ginsberg, to ensure that no one runs behind. That sometimes means dedicating additional hours or missing a meal ("I can't remember the last time I took a lunch," he laughs), but the level of patient satisfaction merits the hard work. "We've bent over backwards to earn our reputation," Dr. Ginsberg states.
It's a reputation built on quality care, personalized service, and genuine concern – and to patients of this growing, full-spectrum family practice clinic, that means a lot.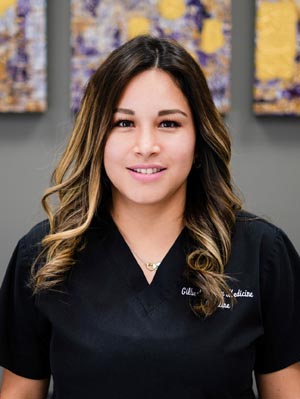 About Caroline Nino
Caroline Nino is a native Peruvian who immigrated to the US when she was 11 years old. She graduated from Red Mountain High School as an Honors Student in 2007 and thereafter attended Mesa Community College to start her pre-reqs for their Nursing Program as well as Pima Medical Institute for her Medical Assistant Program completion.
Caroline joined Gilbert Family Medicine in 2010 as a Medical Assistant and is currently the Office Manager and Lead Medical Assistant.
She is married and has four children, 3 boys and 1 girl who 'are my world'. In her spare time, Caroline enjoys outdoor activities and spending time with her family.